Everyone Wants To Know Their Lawn Mowing Price
The #1 question we receive at Forty Acres Lawn Care in San Antonio, TX is, "How much is lawn mowing?"
It's no surprise the #1 thing people want to know when they contact us is what their lawn mowing price will be.
Our lawn mowing service pricing is clear and transparent.
We are accepting new lawn mowing customers!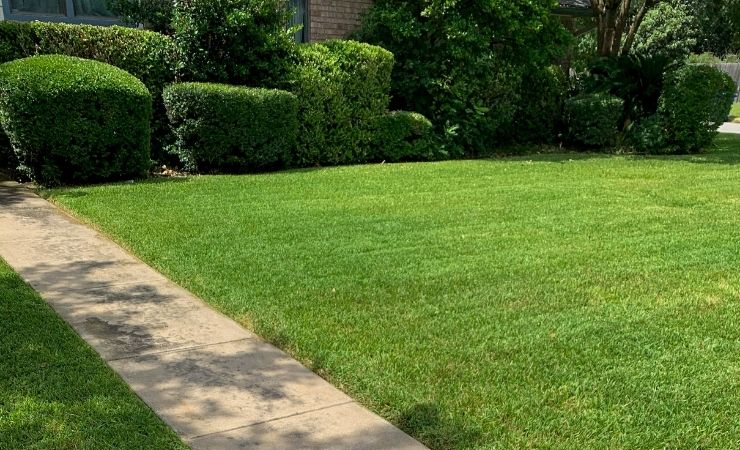 Weekly Lawn Mowing From $40
Forty Acres Lawn Care's lawn mowing service starts out at just $40 per service!
If your lawn is 5,000 sq. ft. or smaller like most of the lawns we service in San Antonio Zip Codes 78249, 78250, and 78254, and you would like your lawn mowed on a weekly schedule, our quote to mow your lawn is $40.
Bi-Weekly Lawn Mowing From $50
We prefer to cut grass on a weekly basis, but we've found plenty of people contacting us for lawn mowing quotes are interested in an every-other-week lawn maintenance schedule.
Mowing the grass bi-weekly instead of weekly keeps the overall cost per month less than what it would cost to have the lawn mowed on a weekly basis.
Since the grass is longer after 2 weeks of growth, we need to charge a little more to account for the additional time it will take us to professionally mow a lawn when the grass is that tall.

Low Pricing For Professional and Reliable Scheduled Lawn Maintenance
We hope our mowing pricing is appealing to you!
If it is, please contact us today and we can get your lawn on our schedule for its 1st mowing service very soon.
Just because we keep our prices low does not mean we cut any corners with our service!  You can expect us to show up like clockwork and perform a quality service each visit.  This is how we really separate ourselves from the other lawn care companies in San Antonio.
Schedule Your Mowing Service
Now that you know your lawn mowing price or at least have a good idea of what our pricing is like, let's get your lawn on our lawn mowing schedule!
Call or email us to get started with our San Antonio neighborhood lawn mowing service.
You can also request a quote or more information about our lawn mowing service by completing the form below.
ryan@fortyacreslawncare.com